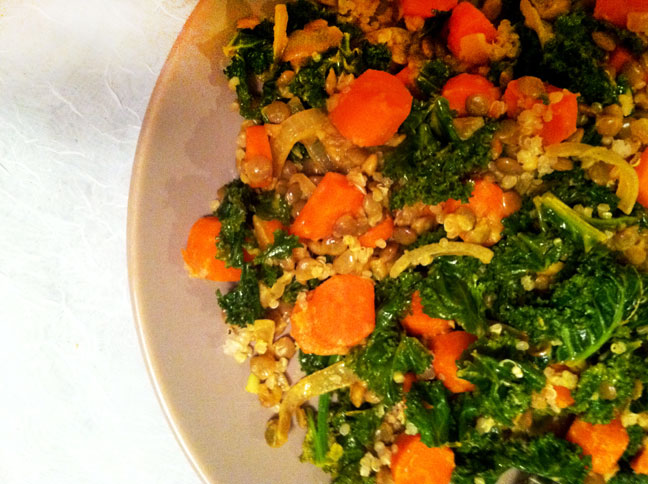 01 Nov

"Mustard" Greens and Veggies

This was one of those recipes that came about because I was starving and threw a bunch of things together that I had in the kitchen…

"Hey, here's a head of kale…a few carrots…an onion…and what the heck do I flavor this with?  I have some mustard, maybe that'll work.  Oh wow..that's delish!"

Yup, that's pretty  much what happened.  And I am well aware that mustard greens are actually a type of green, but in this case, I used kale as the greens and it's actually flavored with dijon mustard.  This is great as a side dish, or you can add some lentils and quinoa for a complete dinner–which is what I did.  Some people have old pasta laying around..for me it's lentils and quinoa..almost always.

This recipe is a powerhouse of nutrients with plenty of protein and fiber to fill you up and a lot of flavor without a lot of fat.
For the Veggies:
1 tbsp coconut oil
2 carrots
1/2 yellow onion, sliced
1 clove garlic, minced
2 carrots, cut into medallions
1 head kale, chopped with stems removed
1/2 cup water
1/2 cup cooked lentils (optional)
1/2 cup cooked quinoa (optional)
For the Sauce:
2 tbsp dijon mustard
1 tbsp vegan mayo (I like the Veganaise grapeseed oil variety)
1 tbsp agave nectar
1/8 tsp ground tumeric
Heat up coconut oil in a pan on medium heat.
Add the onions, carrots and garlic and let cook for about 5 minutes or until the onions start turning translucent
Add the kale and water and cover so it can steam. Cook with the lid on for another 10 minutes or until the kale is nice and wilted, stirring once or twice.
Mix together all ingredients for the sauce and mix it into the pan with the veggies.
If adding quinoa and lentils, add them at the end with the sauce