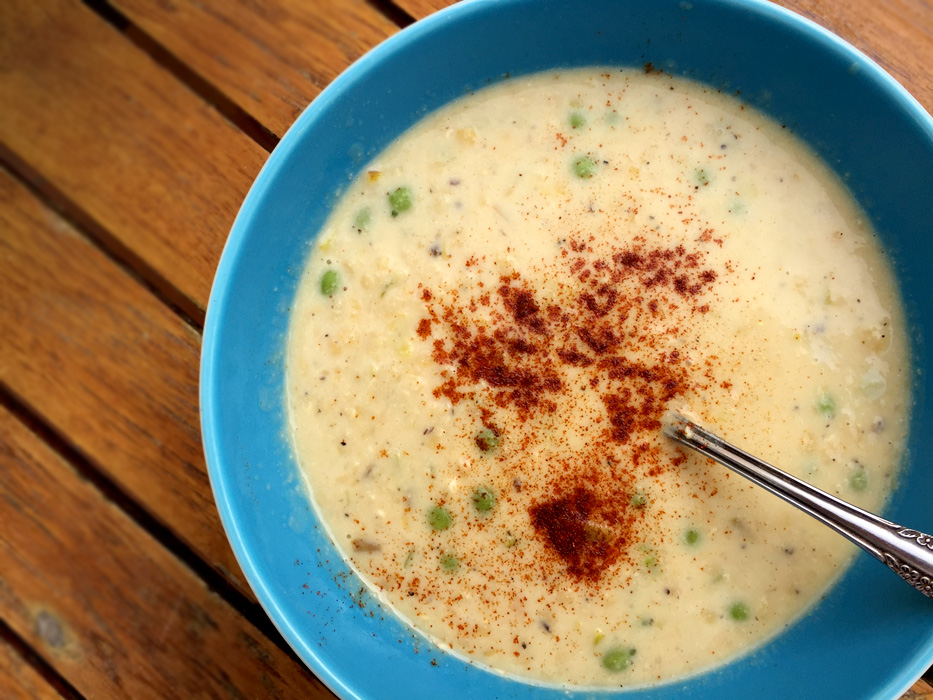 20 Jan

Leek and Lentil Soup

For someone who lives in a climate as warm as I do, it's kinda crazy that soups are probably what I'm best at. I'm also a huge fan of how much healthy stuff you can get into one pot and still have it taste delicious, however, I did make an effort to keep this as simple as possible.
This leek and lentil soup is great if you think you might be coming down with something as the leeks and garlic both contain allicin, which means they are anti-viral, anti-fungal and they neutralize free radicals in addition to being full of vitamins and antioxidants.  The red lentils are a great source of protein, fiber, folate and iron and also contain many other vitamins and minerals. They are also really inexpensive so this soup only costs a little to make and goes a long way!
To any savory soup, I almost always add nutritional yeast.  It may not sound appetizing, but it's full of protein, B vitamins and is great at detoxing as it pulls heavy metals out of the body and brain. All in all this leek and lentil soup is a health superstar and great to eat for lunches throughout the week or a family dinner.
Leek and Lentil Soup
Ingredients
8

cups

water

2

cups

red lentils

1 1/2

tsp

sea salt

1/2

tsp

black pepper

2

bay leaves

1/2

tsp

cumin

2

leeks - dark green parts removed

3

garlic cloves

1

cup

frozen peas

optional

1

cup

cashews

3

tbsp

nutritional yeast

1/2

tsp

garlic powder

1

tsp

ghee

clarified butter or coconut oil (vegan option)

paprika
Instructions
Place the cashews in enough water to cover them completely and set aside.

Add the water, lentils, salt, pepper, bay leaves and cumin to a large pot and bring to a boil, then turn down to medium and simmer for 25 minutes.

While the lentils are cooking, peel and finely chop the garlic. To chop up the leeks, first, cut off the dark green parts and roots (leave the white and light green stem) then slice in half longways and chop into slices that are no more than 1/2 inch thick. Add them to a large bowl of water to rinse off any excess dirt and then strain and rinse.

Add about 1 tsp of ghee or coconut oil to a pan on medium to medium high heat. Once the pan is hot, add the leeks and garlic and sprinkle with a pinch of salt and pepper stirring frequently so they don't burn. Cook them for about 5-7 minutes until they start to brown slightly and then remove from heat.

Drain the cashews and mix them with 1/2 cup of fresh water and blend in your blender or food processor until it becomes creamy.

After the lentils have cooked for 25 minutes, add the cooked leeks/garlic, cashew mixture, garlic powder and nutritional yeast to the pot and mix well. The soup should be pretty creamy at this point. Add the peas if you would like as well as additional salt and pepper to taste and cook on medium low for another 10 minutes, stirring frequently until the peas are warm and the flavors merge.

Top with a sprinkle of paprika to serve if you'd like it to look all fancy-like.
Are you ready to feel good in your body again? 
Here's what you'll learn:
Why cutting carbs, fasting, and many popular diets like Keto don't work for women, and how they may actually be damaging your metabolism and hormones.
How to improve your metabolism, have more natural energy and get better sleep by getting to the root cause, instead of treating each symptom with a pill.
How to feel in control of your body again, by creating sustainable changes that support your hormones.
Sign up to watch on-demand: