03 Jul

Crunchy chickpea veggie salad

One of my favorite things about summer is having BBQs with friends…ok, let's be real, in San Diego, you can probably do that any day of the year. But for the rest of you out there, it's nice to cook outside when it's hot and BBQs are such a great excuse to get together with the people in your life you love.

Besides the grilled food, no BBQ is complete without some side dishes…pasta salad, potato salad, etc. But that stuff can get sooo heavy! So I wanted to create an alternative to potato salad that has a similar flavor and still pairs well with everything else.  So instead of potatoes, I used some chickpeas (garbanzo beans) and threw in a bunch of crunchy veggies…let's replace those high carbs with some protein and fiber..woohoo!

This salad is so cool and refreshing, it'll pair perfectly with burgers, bbq chicken, smoked meats…or veggie burgers if you're like me.  In addition to all of the veggies in it, I of course had to throw some extra nutrients and texture in there by adding some sunflower and hemp seeds.
Even if you're not at a BBQ, this is a great salad to make for a few days of lunches. The chickpeas, sunflower seeds and hemp seeds will all supply an adequate amount of protein as well as fiber and healthy fats, and the array of colors means you're getting all kinds of different vitamins and minerals.
Crunchy chickpea veggie salad

Prep time:

15 minutes

Total time:

15 minutes

Yields: 6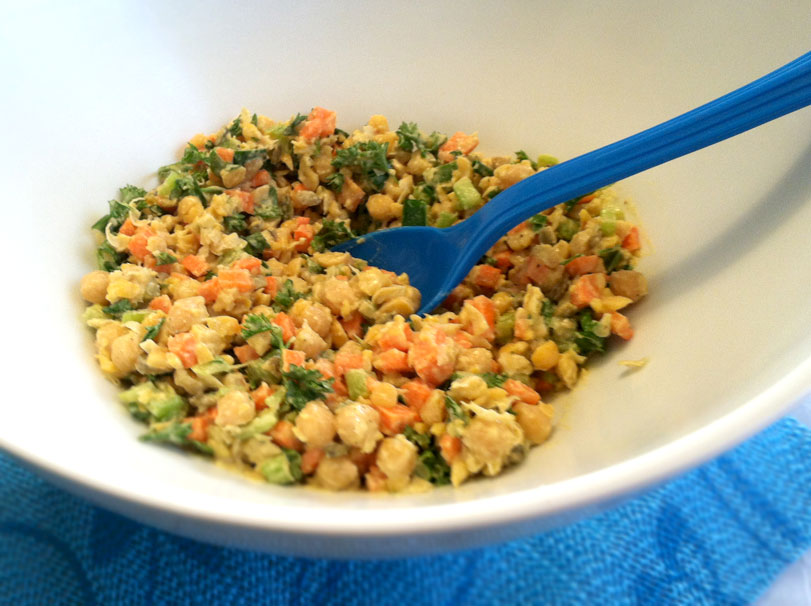 3 cups chickpeas
1/4 cup sunflower seeds
1/4 cup parsley
2 green onions, sliced (green part only)
1 carrot, diced
1/2 cucumber, peeled and diced with seeds removed
1 celery stalk, diced
3 tbsp veganaise or greek yogurt
1 tbsp dijon mustard
1 tbsp hemp seeds
Juice from 1 lemon
1/2 tsp garlic powder
pinch of cumin
1/2 tsp salt (to taste)
1/4 tsp pepper (to taste)
dash of hot sauce (optional)
Chop the parsley, green onions, carrot, cucumber and celery into tiny pieces (about the size of a pea). Add them to a medium to large size bowl.
Add the chickpeas and sunflower seeds to a blender or food processor and chop them slightly. You don't want them pureed, just broken up a bit and starting to soften up. It's better to have bigger chunks than turn them into liquid. Add the mixture to the bowl and mix all ingredients together.
Add the veganaise/yogurt, mustard, hemp seeds, lemon juice, garlic, cumin, salt, pepper and hot sauce (optional) and mix until all veggies are coated with the seasoning.