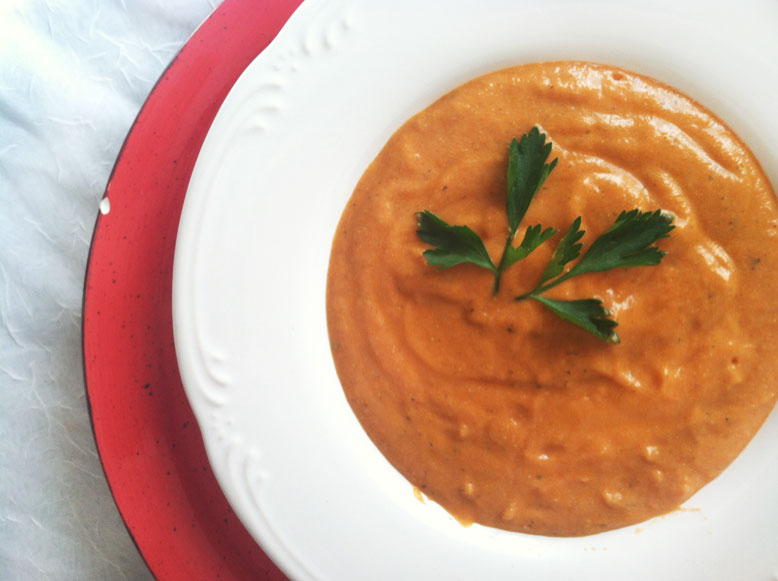 11 Dec

Creamy Tomato Soup

Usually I like to take a day early in the week and cook something that I can eat all week.  A few hours one night usually yields lunch for most of the week and I know I won't have to worry about making unhealthy decisions because of time later in the week.

The other night, my roommate was making grilled cheese and tomato soup and it looked sooooo good.  The ingredients on the soup started with "milk" though, so I didn't get any further than that.

Since it's easy to catch a cold in winter and dairy is known to cause congestion in many people, I wanted to create something that had the same creamy texture, but without the milk, and of course made from fresh, whole, organic ingredients and no added sugar.
I took the time to roast the red pepper and tomatoes (and de-seed them), but to save time, you could buy fire roasted canned tomatoes and roasted red peppers in the jar. Remember that if you buy anything in a can, be sure that the can doesn't use BPA lining.  BPA is a lining made from a chemical that's known to be dangerous to our health and when it's in cans, there's a concern that it may seep into our foods…especially something acidic like tomatoes.
If you're looking for a good winter soup for lunch, or want to impress your friends & family with some homemade comfort food, this recipe is sure to do the trick.
Creamy Tomato Soup

Yields: 4-6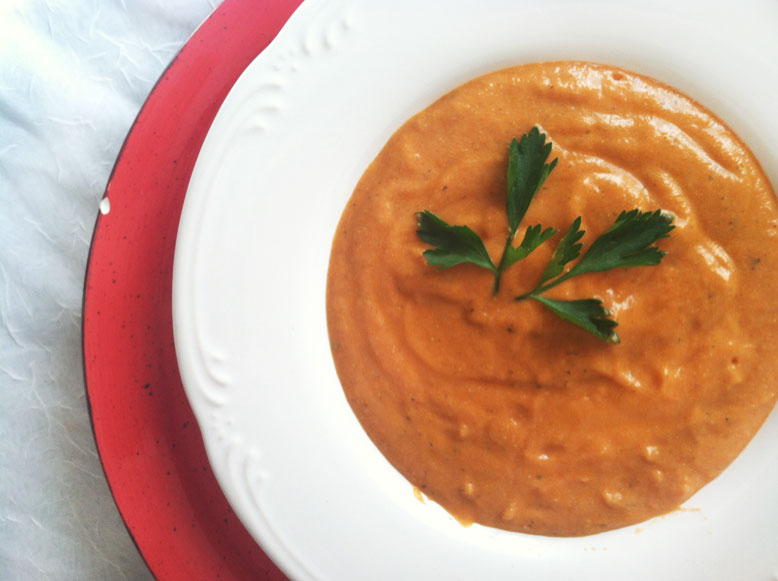 1/2 cup cashews
1/2 cup water
12 tomatoes (I used on the vine), quartered and de-seeded
1 red pepper, halved and de-seeded
drizzle of olive oil
2 large carrots, chopped
1/2 medium yellow onion, chopped
1/4 cup celery, chopped
3 large cloves garlic, finely chopped
3 tbsp coconut oil
2 tbsp oat flour (or regular flour if you prefer)
3 cups veggie stock (or chicken stock if you prefer)
2 tsp dried basil
1/2 tsp white pepper
1 tsp salt
1/2 tsp smoked paprika
1/4 tsp cumin
1/4 cup agave nectar
2 1/2 tbsp tomato paste
A few sprigs parsley (optional)
Soak cashews in a bowl of water.
Preheat oven to 375. Cut the tomatoes and red peppers and remove the seeds and add them to a casserole dish with a little olive oil drizzled over them. Roast for about 35-45 minutes until they start to char slightly (but not burn).
Chop the onions and carrots and add them to a pan on medium with about a tablespoon of coconut oil (or less). Cook for 5 minutes, then add the garlic and celery and cook for another 5 minutes.
Add 2 tbsp of coconut oil to a large pot on medium low. Once it's melted, slowly add in the flour and mix until it forms a paste (only 2-3 minutes for oat flour, a little longer if you're using regular flour).
Add the veggie stock to the pot and stir it into the flour mixture until smooth. Add all spices (except parsley), tomato paste, and agave nectar to the pot.
Drain the cashews, add new water (1/2 cup) and blend in a high powered blender until creamy, add it to the pot.
If you have an immersion blender, add all of the veggies from the oven and stove to the pot and blend until creamy. If you don't, add them all to your high powered blender, and once they are pureed, add them to the pot.
Cover the pot and continue to simmer on low for at least 30-45 minutes.
Serve with fresh parsley (optional)