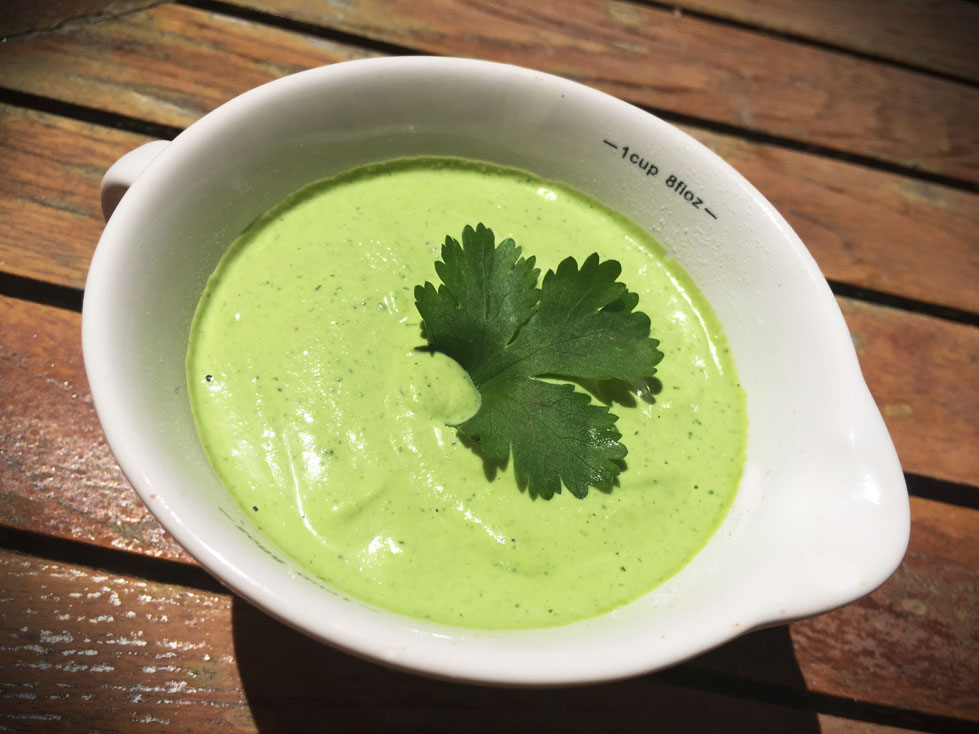 01 May

Cilantro Sour Cream (vegan)

Giving up dairy for me was reeeeeeaaaallly hard. But my body thanks me for it every day. After years of allergy attacks, a cough that wouldn't go away and constant breakouts, I discovered the cause, gave up dairy, and never looked back..

But that cheese…and sour cream! Thankfully I discovered that blending nuts like cashews and almonds with water was an excellent cream substitute. Plus, they provide healthy fat and are a good source of minerals. This is a take on my standard non-dairy, vegan sour cream..but with a little twist of cilantro and lime…perfect for southwestern style salads, rice bowls, tacos, potatoes…or anything really. I tend to find myself licking the bowl of whatever this is on.

To make the southwestern lunch bowl below, I mixed together some roasted Japanese sweet potatoes, cucumbers, black beans, green onions, avocados and tomatoes over a bed of chopped kale (romaine would work well too). For a little spice, I topped it with some Siracha. YUM!
Cilantro Sour Cream (Vegan)
Ingredients
1/4

cup

packed cilantro

1/2

cup

cashews

soaked in water 2+ hours or overnight if you have time

1/3

cup

water

less if you want it thicker

2

tbsp

lime juice

1/4

tsp

salt

more or less to taste
Instructions
Place all ingredients in a high powered blender or food processor and blend until smooth.

Use as dressing, dipping sauce or to top veggies, tacos or meat.
Are you ready to feel good in your body again? 
Here's what you'll learn:
Why cutting carbs, fasting, and many popular diets like Keto don't work for women, and how they may actually be damaging your metabolism and hormones.
How to improve your metabolism, have more natural energy and get better sleep by getting to the root cause, instead of treating each symptom with a pill.
How to feel in control of your body again, by creating sustainable changes that support your hormones.
Sign up to watch on-demand: