30 Dec

Sweet Potato Orange Juice

In the land of green juice, sometimes you want something that's radically different…and in comes the sweet potato.  It seems like a weird thing to juice, but it offers up a sort of creamy texture that most veggies don't.  The chard in this juice adds some salty flavor which balances out the sweetness of this nicely.  I have a champion juicer, so I get quite a bit of juice from my veggies, but if you have a cheaper juicer, you may have to use slightly more veggies (extra carrot or chard leaf would do the trick).

And don't be fooled by the color…the green and orange mix and turn brownish so they don't look that appetizing, but it still tastes good and is full of different nutrients that you might not get from an all green juice.  Eating and drinking the colors of the rainbow is always a good rule to live by.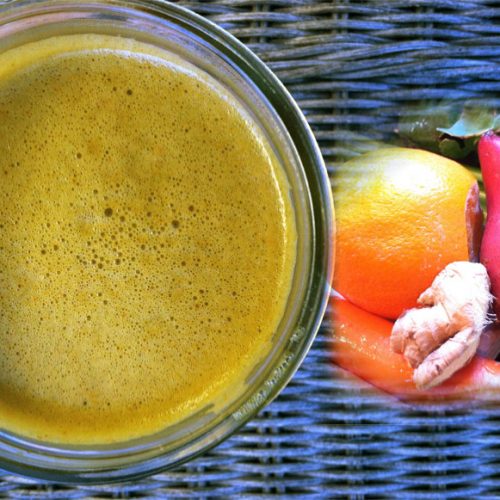 Sweet Potato Orange Juice
Ingredients
1/2

large sweet potato

or 1 small one

2

large swiss chard leaves & stems

2

carrots

1

orange

peeled

slice

of ginger

size of your thumbnail
Instructions
Wash all ingredients and cut them so they will fit into your juicer. No need to peel the carrots or sweet potato. Ginger juices best when it's wrapped in greens so you may want to wrap it in the chard.

Juice and enjoy!