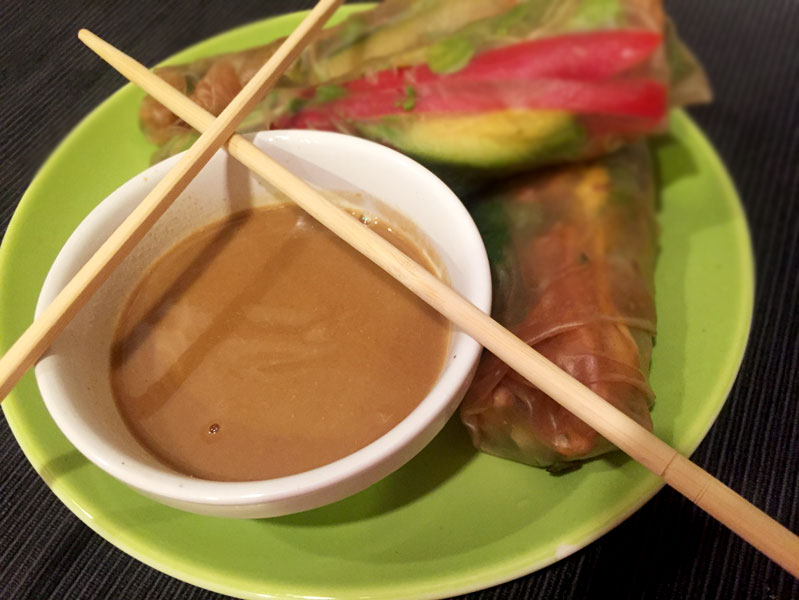 14 Jul

Peanut(less) Sunflower Seed Sauce

Recently I found myself in the predicament that many of my clients face (whether they know it or not), which is dealing with food sensitivities. Food sensitives, allergies, and intolerances not only cause digestive problems like bloating, gas, constipation and diarrhea, they can also cause things like acne, scratchy throat, stuffy nose, brain fog…and the list goes on. So I treated myself like a client; I put myself on an elimination diet and gut infection protocol (gut issues often stem from infections).

The reason I'm telling you this is that I am a sucker for tofu spring rolls with peanut sauce…unfortunately soy and peanuts are two huge culprits for food sensitivities, so as always, I had to get creative. But man I'm glad I did! I found brown rice wrappers at a local organic store (People's in OB for San Diego locals) and proceeded to create my own "peanut" sauce using my new favorite nut butter substitute…sunflower seed butter (from Trader Joe's). It's 5 ingredients and oh-so-yummy!

Sunflower seed butter is a great source of healthy fats, protein, vitamin E and anti-oxidants. It's also insanely delicious. Instead of soy sauce, I opted for coconut aminos which are made from fermenting coconuts. It's not quite as salty and a bit more sweet (you can get it at health food stores or Vitacost.com). Adding ginger and apple cider vinegar bring tremendous flavor and are excellent for digestion and inflammation.

Try it with kelp noodles or any Asian-inspired dish!

This sauce is excellent for dipping, but if you'd like to use it for stir fry, on top of protein, or over veggies, you can omit the vinegar and add a coconut milk for consistency.
Peanut(less) Sunflower Seed Sauce
Ingredients
2

parts Sunflower seed butter

1

part Apple cider vinegar

1

part Coconut Aminos

1

part Maple Syrup

you can sub stevia or honey

Dash of Ginger powder

Pinch

of Cayenne

if you want it spicy; be careful, a little goes a long way

Water for consistency

optional
Instructions
Combine all ingredients in jar and shake up to mix. Or add all ingredients to bowl and blend together with a whisk.

Start with just a little pinch of ginger and add more to your taste
A slow metabolism, imbalanced hormones and lack of energy are not just a part of getting older. If you get to the root cause, it is possible to feel good in your body again. 
Take the quiz to find out what root causes are affecting your metabolism. 
Take the Quiz