10 Dec

Veggie Sushi Rolls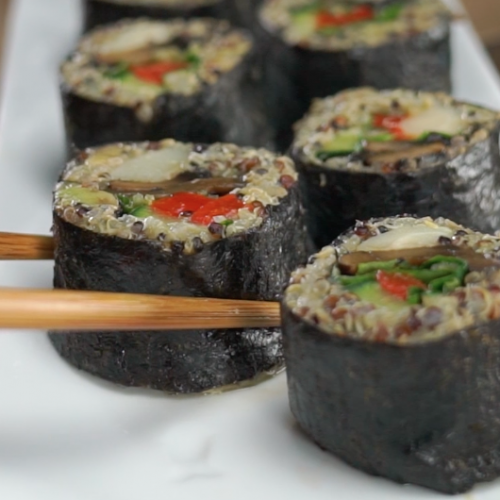 Veggie Sushi
Ingredients
2

cups

shiitake mushrooms

portobellos will work if shiitake aren't available

¼

cup

coconut aminos

Pinch

of garlic powder

1

roasted red pepper

1

cucumber

3

hearts of palm stalks

½

bunch cilantro

6

green onions

1/2

package sprouts

1

ripe avocado

must be pretty soft

2 ½

cups

cooked quinoa

½

tbsp

apple cider vinegar

Pinch

of salt

Sriracha

optional

6

nori wraps

seaweed
Instructions
Cook quinoa (1 ¼ cup dried plus 2 ½ cup water on medium low heat, covered, for 16 minutes or until all water is absorbed), let cool

Slice shiitake mushrooms into thin slices.

Heat 2 tsp of coconut oil in a pan on medium heat. Add mushrooms. Cook for 7-10 minutes until they become soft and meaty and start to brown. Turn off heat, add coconut aminos and sprinkle with garlic and mix well. Set aside to cool..

Slice long thin slices of cucumber and red peppers and set aside

Cut hearts of palm longways into quarters and set asie

Slice avocado in half, remove pit, and mash up. Add to a bowl with cooled quinoa, apple cider vinegar and a pinch of salt. Mix well so it becomes a sticky sushi-rice like mixture. Optional - mix in sriracha if spiciness is desired

Lay out 1 seaweed wrap at a time on a sushi roller or cutting board.. Add a thin layer of the quinoa mixture to about ⅔ of it.

About 1 inch from the end with the quinoa mixture, begin to create your rolls. Add 2 quarters of the hearts of palm, end to end (trim to fit if needed), cucumber slices, red pepper slices, mushrooms, a few sprigs of cilantro, and 1 green onion. Pack tightly.

Begin to roll over the mixture and continue rolling until you get to the end of the quinoa mixture. Dab the naked seaweed with a bit of water and finish rolling, press down to seal the seaweed.

Slice into 1 inch pieces of sushi and enjoy with a side of coconut aminos and/or soy sauce & wasabi.
Whether you don't eat fish for personal taste, or because of the radiation contaminants and toxins like mercury, this sushi roll made from veggies might be better than the real thing anyways.
And if you're worried about not enough protein or too many carbs, you'll be delighted to see that the rice has been substituted with a mixture of quinoa (protein/fiber-rich) and avocado to help it stick.
I personally love the mix of colorful veggies used in this recipe, but get creative! Mixing a lot of different textures keeps it interesting and ensures you're getting a wide array of vitamins and minerals.
If you try this recipe, post it and hashtag #dancetothebeet or leave a comment below and let me know what you think!
A slow metabolism, imbalanced hormones and lack of energy are not just a part of getting older. If you get to the root cause, it is possible to feel good in your body again. 
Take the quiz to find out what root causes are affecting your metabolism. 
Take the Quiz